Skip to Content
We Are Open! Call Now! CLICK HERE for more information on health & safety procedures surrounding COVID-19
Get Beautiful Teeth With Lumineers® or Porcelain Veneers
The caring professionals at Dr. Terrance L. Jeter & Associates want to make sure your cosmetic dental needs get addressed with the best possible solutions. At our offices in Decatur and Midtown Atlanta, GA, we offer both Lumineers® and Porcelain Dental Veneers as treatment options to correct your dental imperfections. Lumineers are thin ceramic shells that we adhere to the front of your teeth. Each veneer gets made to the shade and shape that suits a patient's mouth, and it's one of the most effective methods to perfect teeth with damage, misalignment, or stains. During a consultation, Dr. Jeter will assess your current dental condition to determine whether Lumineers® or Veneers is the right choice for you. Patients throughout Atlanta, Buckhead, Decatur, and beyond trust Dr. Jeter's 30 years of versatile experience in dentistry, and our cosmetic skills ensure you get a brilliant smile transformation.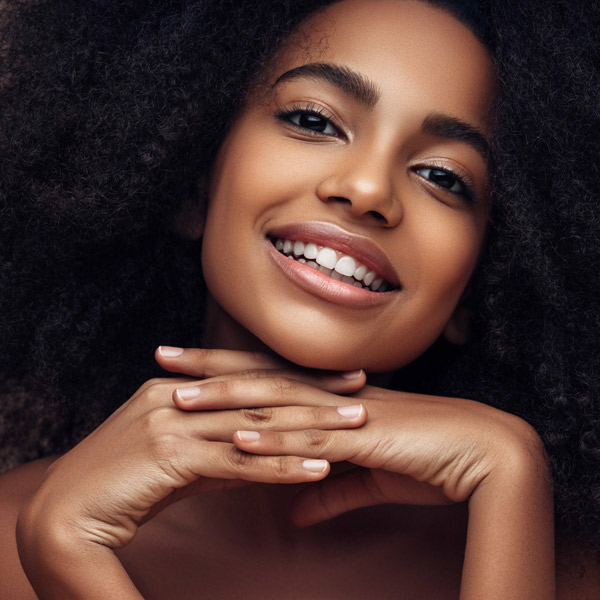 The Difference Between Lumineers® & Veneers
Veneers are an excellent way to cover dental imperfections like staining, cracks, chips, and gaps in your teeth. Porcelain veneers offer durability and a wonderfully natural look that blends perfectly with the rest of your mouth. At Dr. Terrance L. Jeter & Associates, we provide our patients with options for both Lumineers® and Porcelain Veneers because they each offer unique advantages without sacrificing quality or aesthetic appeal. You might wonder what the differences are between standard porcelain veneers and Lumineers®, so we've summarized each option to give you a better understanding of the benefits.
Benefits Of
Porcelain Veneers
These durable tooth restorations effectively conceal imperfections in your teeth and give you a natural-looking smile. Standard types of these veneers use high-quality land-layered porcelain and ceramic material, and each veneer gets custom-made to match the surrounding teeth' shade and shape. Patients' teeth typically require minimal preparation, which helps to preserve the majority of the tooth's natural structure.
Lumineers®
This option is a porcelain veneer with added benefits that surpass those of standard veneers made with this material. With Lumineers®, you get every benefit of standard porcelain veneers, and we often don't have to prepare your teeth, which preserves your entire natural tooth. Additionally, Lumineers® are made with a thinner ceramic material called Cerinate®, eliminating the need for injections or drilling while keeping your restoration's durability.
Trust Our Dental Experts With Your Cosmetic Needs
Dr. Terrance L. Jeter & Associates has reliable dental expertise to ensure the exceptional dental care for you and your family. We've built our cosmetic dentistry around methods and technologies that offer convenience, timeliness, and outstanding results. Lumineers® and Veneers are prime examples of cosmetic dental excellence, and we proudly offer both treatment options to patients who desire a perfect smile. Be sure to schedule a consultation with Dr. Jeter and our dental staff so that we can learn about your aesthetic goals and the current condition of your teeth. After assessing the situation, we'll recommend the best treatment to beautify your pearly whites.